Did You Know…A Life Insurance Policy Can Be Converted To Pay For Senior Care Expenses FAQ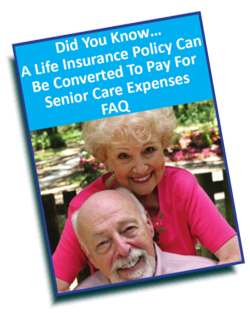 Did You Know… A Life Insurance Policy Can Be Converted To Pay For Senior Care Expenses FAQ
For millions of seniors with a life insurance policy they now have an option available to convert a portion of the death benefit to help cover the cost of long term care.
Not to be confused with long-term care insurance, an annuity, or a policy loan; the Long-Term Care Benefit is unique because there are no wait periods to qualify, no limitations, no costs to apply, and no premium payments. Instead of lapsing or surrendering a life insurance policy, the death benefit is converted into a "living benefit" in the form of an irrevocable, FIDC insured account that makes monthly payments automatically to the account holder's choice of care provider. Sometimes compared to a reverse mortgage for a life insurance policy; the account is tax advantaged and a Medicaid qualified spend-down.
The Long Term Care Benefit is flexible and can be adjusted to meet changes in long term care needs. It provides a funeral expense benefit and any remaining account balance is paid to the family. After years of premium payments, many policy owners will allow a policy to lapse or surrender it for any remaining cash value. This is a big mistake when the same policy could be used to pay for the costs of long term care.
Please fill out the form below to receive my Free report, Did You Know… A Life Insurance Policy Can Be Converted To Pay For Senior Care Expenses FAQ. The report will answer the most frequently asked questions about using your no longer needed or no longer able to afford life insurance policy to pay for long term care.
Complete the form below and click "Submit" and we'll send your FREE Report right away.