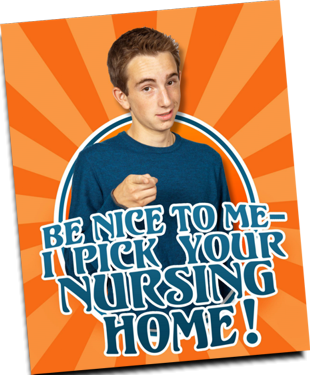 Each year passes and your loved one's need for care increases –
Facing the enormity of long-term care, whether it is the financial, healthcare, emotional or psychological issues, is so overwhelming.  As an elder care attorney, when I sit down with seniors and their families to explain how we can help them and guide them through that journey, we cover a lot of ground.  There are so many factors and scenarios to consider.
Planning for long-term care sometimes feels like trying to hit a moving target.  Families rarely process it all in one sitting.  It usually take time and repetition to really understand what steps to take and why.
I know because I was once in their shoes – in your shoes.  Before I first began counseling clients in this area my own family became my first elder care client and I experienced the same sense of confusion and frustration that so many families suffer through every year.
It is for those people that I wrote Be Nice to Me – I Pick Your Nursing Home.  The book is a compilation of stories and complex concepts broken down into easy to understand snippets.  The book is meant to illustrate a real life picture of what long-term care looks like and how to solve the puzzle.
We have been conditioned since childhood to learn through stories.  Aesop's Fables are a great example of that.  In Be Nice to Me I share the success stories as well as the nightmarish stories of others who have gone before you, that will educate and enlighten but also, hopefully, motivate you to take action.
Reading my book is a small but easy first step to getting a better night's sleep and reducing the stress in your life.
Hauptman & Hauptman, PC return policy is as follows:   Return unused books to Hauptman and Hauptman, PC, 354 Eisenhower Parkway, Plaza I, 2nd Floor, Livingston, New Jersey 07039 within 60 days of purchase for a full refund.  PDF files cannot be returned. For more information please call, 973-994-2287.