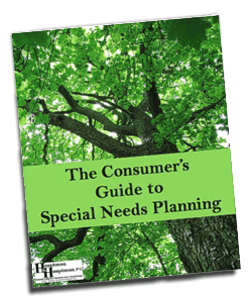 While we are all living longer and facing issues of long-term care and how to pay for it, people with special needs are living longer as well. If you are a parent of an adult child with special needs have you considered what will happen to that child when you pass away? Do either of these questions keep you up at night, "Where will my child live?" or " Who will financially support and/or manage my child's finances and care?"
Our free report, The Consumer's Guide to Special Needs Planning will reveal why aging parents of adult children with special needs must protect their children and their assets before they- the parents – start to need long term-care and what steps you should be taking now.
Complete the form below and click "Submit" and we'll send your FREE Guide right away.